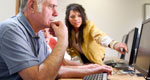 Building Automation Systems (BAS) are used in commercial HVAC and refrigeration control and energy management system applications. Building Automation itself is an energy management system which saves management companies and building owners by efficiently controlling air conditioning, heating and refrigeration systems.
Technical Air Corporation (TAC) is proud to represent the Solidyne (www.solidyne.com) line of building automation products. Solidyne has been a leading manufacturer of building automation products since 1969. For building automation systems to be effective, it is important that the system is installed and maintained properly. TAC has been a factory certified Solidyne dealer since 1989 with several successful installations throughout Southern California.
Here are some of the features that are offered:
End user scheduling of the equipment and lighting systems so that energy savings can be realized when the building or spaces in the building are unoccupied.
Remote communication over the internet, intranet or phone line.
Maintain optimum efficiency of the equipment by giving operators real time information. This allows the operator to respond to alarms and small problems before they become big problems. Maintenance personnel can use this information to maintain precise maintenance schedules based on actual run time of the equipment.
Optimal start with adaptive learning. Optimal start is allowing the equipment to be brought on in an ordered and sequential manner automatically on a schedule before the building is reoccupied so that space set points can be realized before occupation. Adaptive learning allows the system to compare space temperature, outside air conditions, and equipment capabilities so that the equipment can be turned on at an appropriate time to ensure space set points are achieved before occupation with minimal energy consumption.
The ability to monitor energy usage including the ability to meter electric, gas, water, steam, hot water, chilled water, and fuel oil services.
Demand based ventilation offer economizing based on enthalpy calculations and/or CO2 set point control.
Control algorithms as reset schedules for heating plants, static pressure control, and other systems where energy savings can be realized through these predictive programs.
Load shedding when power companies are at peak demand and need business and industry to cut back on power usage to prevent brown outs. Building Automation Systems allow the owner to cycle various things off like water heaters or drinking fountains where use of these things will not be noticed even though they are off.
The ability to send alarms via email, cell phone, or telephone to alert building managers and/or technicians of developing problems and system failures.
Tenant billing for energy usage.
The ability to be integrated with other building automation control systems through TCP/IP, BACnet, LON and Modbus.
Trending of equipment that can be used to increase efficiency and to troubleshoot.